Description
Sprite Something is a drawing, animation and tilemap application for pixel artists and game developers. Draw multiple frames individually, then quickly drag and drop frames into an animation, or use your frames to draw tilemaps for your game levels. Export your creations to PNG, animated GIF's and CSV files (tilemaps).
History
Sprite Something was created out of the need for a pixel editor to easily create multiple frames and export spritesheets. Drag and drop animation was added to one of the early updates, as well as GIF export. Later, Tilemap creation was added so users could do more with their pixel artwork. The latest update (2.01) adds iCloud, Dropbox and Photo Library support, new tools and tool options, and better UI navigation flow.
Features
create sprite sheets / tiles for use in games
edit frames individually and conveniently
animation: drag and drop animation frames
supports portrait and landscape views
pan/zoom editing image
iCloud
Dropbox import/export
Photo Library import/export
add custom GIMP color palettes
RGB/HSB color select
scalable preview to see your pixel work at multiple sizes
onion skinning for easy tracing or cloning frame
Place photos behind editing area
Assignable three and four finger swipe gestures
add new or save out your drawings through iTunes file sharing
Export via email
Individual frame export
GIF export: save and email gif previews of your animations
Generates Flixel and FlashPunk actionscript
Universal app, works on iPod, iPhone and iPad
iOS 5.0+ compatible
Optimized for Retina display (iPad and iPhone)
Logo & Icon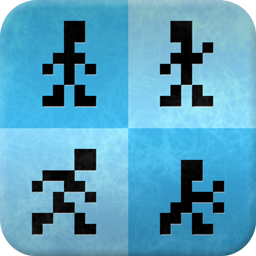 Awards & Recognition
Sprite Something has not received any awards or recognitions yet. Please check back later to see if things change.
Selected Articles
"Old-school icon designers and retro game houses alike will be delighted by the release of Sprite Something from Terrible Games."
- Jeff Smykil, Ars Technica
"You could become the next eBoy! (probably not, though)"
- Eric Caoili, Game Set Watch
Request Press Copy
Please fill in your e-mail address below and we'll get back to you as soon as a press copy is available for you.

Additional Links
About Terrible Games
Boilerplate
We make games and tools for game makers. We try to inject a bit of humor and wit into the games we create.
More information
More information on Terrible Games, our logo & relevant media are available here.
Sprite Something Credits
Matthew Klundt
Developer
presskit() by Rami Ismail (Vlambeer) - also thanks to these fine folks