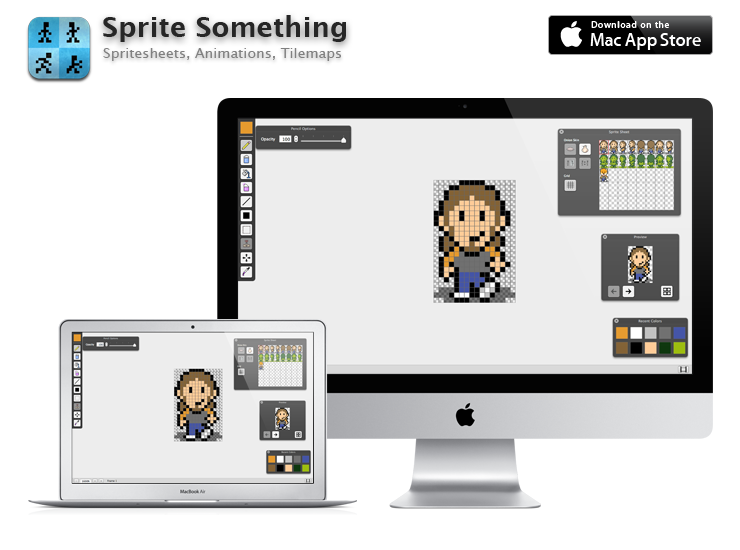 Share
Updates
Version 1.0 is live! Click the download link to get it today.
Pixel Art made with Sprite Something
Download

About
Sprite Something is a drawing, animation and tilemap application for pixel artists and game developers. Draw multiple frames individually, then quickly drag and drop frames into an animation, or use your frames to draw tilemaps for your game levels. Export your creations to PNG, animated GIF's and CSV files (tilemaps).
Follow @mattfox12 on Twitter for latest news.
Features
create spritesheets / tiles for use in games
edit frames individually and conveniently
animation: drag and drop animation frames
tilemaps: draw using frames to create large maps
iCloud - sync spritesheets, tilemaps and color palettes across your devices
GIF export: save gif previews of your animations
RGB/HSB color select
Recent colors/tiles
scalable preview to see your pixel work at multiple sizes
onion skinning for easy tracing or cloning frame
Individual frame exportadd custom GIMP color palettes, or create your own palettes
export individual frame images
OS X 10.6 or later
GIMP Palettes
Open .gpl files in Sprite Something to choose your colors easily. Save them to iCloud to use the same palettes across all devices. Below are some references for GIMP palettes:
Troubleshooting/Tips
Supports PNG files up to 512x512
Click and hold to select color when using pencil, line or fill
Onion skin: click onion button once to set relative onion skin, twice for locked onion skin. Relative will maintain the frame difference between current frame and onion frame, Locked will stay on the same frame if you change current editing frame
---
Report Bugs or Request Features
Click here for the current list of known bugs and planned features.
Sprite Something is made by just one guy, so help a guy out. Let me know if there are errors, or what could help make the app better. If reporting an error, please explain as best you can what is going wrong and what you are doing when it happens. Including image size and frame size will probably help.
Follow @mattfox12 on Twitter for latest news.